Local athlete competing in Paralympic Games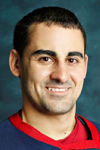 He was diagnosed with cancer at 3-years-old and had his leg amputated, but one St. Louis athlete is heading to Sochi despite it all.
Steve Cash is the goalie for Team USA's sled hockey team. The Overland native is competing in the Paralympic Winter Games next month in Sochi.