Wisconsin's Outdoor Throwback Hockey Jerseys – John Ramage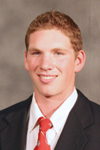 Wisconsin will wear a replica jersey for its mid-February outdoor game in Chicago.
On February 17, the Badgers men's hockey team will play its third outdoor game in the last eight seasons, when Wisconsin faces off with Minnesota in the Hockey City Classic at Soldier Field in Chicago.
Monday, Badgers defenseman John Ramage shows off the uniform Wisconsin will wear for the outdoor game.  It's a replica of the jersey Wisconsin wore back in the early 1930's.