Vitale Overcomes The Odds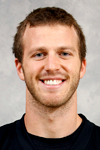 Joe Vitale was born August 25, 1985. But early health issues in his infancy created rocky times for his parents, Sam and Mary Anne Vitale.
"Joey, when he was born had two kidney problems. He had two surgeries," Sam Vitale said. "The one thing I think about all the time is after his second surgery my wife and I were in tears and the doctor said, 'Don't feel so bad, your son doesn't know what he's going through.