Together forever – So Far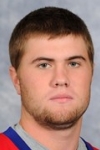 No, UMass Lowell freshmen hockey players Ryan McGrath and Greg Amlong are not Siamese twins. It just seems that way because they've been virtually inseparable for more than 15 years now.
And if they were Siamese twins, McGrath and Amlong would be the most mismatched twins since Danny DeVito and Arnold Schwarzenegger. McGrath, a forward, stands a mere 5-7 and weighs 160 pounds, while Amlong, a defenseman, checks in at 6-2, 200.