St. Charles Chill Making The Cut Free Agent Tryout Camp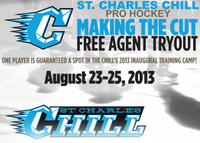 August 23-25, 2013
ONE PLAYER IS GUARANTEED A SPOT IN THE CHILL'S 2013 INAUGURAL TRAINING CAMP!
CLICK HERE FOR REGISTRATION PACKET
The St. Charles Chill of the Central Hockey League is hosting a free agent tryout, giving top amateur players an opportunity to play with the Chill for their inaugural season.
$200 PER PLAYER
On-Ice Evaluation
Friday, August 23
6-7pm
Saturday, August 24
10-11am
4:10-5:10pm
Sunday, August 25
11am-12:30pm
– All players must be a minimum of 20 years of age (proof of age required).
– Players must bring own equipment and sticks including helmet with visor.
– Guarantee of two (2) ice sessions, cuts may be made after Saturday morning session.
– Equipment manager on site throughout the camp.
Chesterfield Ice Complex (Hardee's)
16851 North Outer Forty Drive
Chesterfield, Missouri 63005