St. Charles Chill Announce 2013-2014 Season Schedule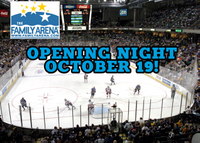 The Central Hockey League announced the 2013-14 season schedule and the Chill will open up against their in-state rival, the Missouri Mavericks, on October 19 at The Family Arena. The Chill will play 33 home games at The Family Arena and of those 33 dates, the team will have 25 "weekend" dates (Friday, Saturday and Sunday). St. Charles will host every team in the CHL at least once and the Quad City Mallards will visit St. Charles the most (7 times).
Season tickets for all 33 games are on sale now and include many benefits. The promotional schedule will be unveiled at a later date.
Click Here For A Month By Month Schedule
Click Here For A Printable Schedule