RoughRiders Trade Leading Scorer To Sioux City for Goodwin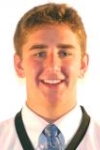 The Cedar Rapids RoughRiders continued the overall of their roster Friday by trading leading scorer Riley Bourbonnais to the Sioux City Musketeers for forward David Goodwin, Riders Coach/General Manager Mark Carlson said.
The Riders have lost four games in a row and eight of 10 to drop to 7-8-3 overall. That included a tough 6-5 overtime loss Thursday night to Chicago.