RoughRiders' Saracino feels lucky to be alive after auto accident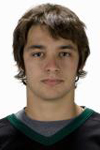 In the grand scheme of things, Nick Saracino is alive. He's not playing hockey in that big rink in the sky.
That's not meant to make light of the automobile accident the Cedar Rapids RoughRiders' center was involved in two weeks ago. It was a bad one that could have been worse.