Rested Goalie Gives K's Lift With Shutout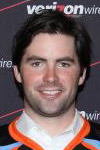 Some goaltenders accustomed to starting almost every game might find it difficult to sit out four straight games.
They also might find it difficult to get their focus and timing back.
Charlie Effinger, apparently, is not among them. Effinger stopped 43 shots in the Komets' 1-0 victory over the Gwinnett Gladiators before 7,207 fans Saturday at Memorial Coliseum.