Reign's Kyle Kraemer does his part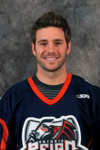 Not only did the Reign win the Pacific Division of the ECHL, but forward Kyle Kraemer has won the hearts of many in the community.
During the season, Kraemer pledged $10 to charity for each goal he scored. It may not sound like much, but remember this is minor league hockey, the ECHL, and paychecks aren't nearly as large as those found in the NHL or even AHL.