Musketeers prepare for second team camp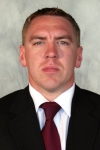 Sure, the Sioux City Musketeers forced turnovers last season, but now they're starting to learn new head coach Jay Varady's way of causing opponents to lose the puck.
Twenty-three forwards, 11 defensemen and three goaltenders will participate, starting today, at a team camp held at Mills Ice Arena, the practice facility of the National Hockey League's St. Louis Blues. Over the next four days, skaters trying to land a spot on Sioux City's United States Hockey League roster will learn the structures that made Varady's past teams successful.