Mermis brothers, Jarrod and Dakota, part of DU hockey's family fun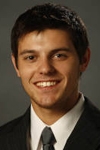 Turkey and all the fixings will be a family affair for the majority of the University of Denver hockey team even though there is practice Thursday morning.
The Mermis brothers — junior Jarrod and freshman Dakota — are continuing a trend that has brought families together in the Mile High City over the winter holidays. Five sets of brothers have played for DU within the past five years.