McRae Visits Patients at Children's Hospital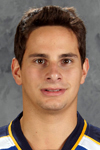 Blues forward Philip McRae visited patients at St. Louis Children's Hospital on Tuesday, and Tim Fannon probably smiled more during that five-minute visit than he has in all of the last three weeks.
Fannon's son, Sam, is suffering from a traumatic brain injury that occurred late on August 6, when the Mazda 6 he was driving on a windy road in Waterloo, IL flipped and rolled over several times. The accident injured Sam and all four of his passengers, one of which died from injuries sustained in the crash.