McKenna Realizes Childhood Dream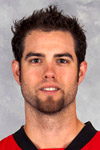 When Mike McKenna reports to Blues Training Camp in September, he won't need anyone to show him around town.
The 29-year-old goaltender grew up in St. Louis and still lives here in the offseason. On July 1, he signed a one-year, two-way contract with his hometown team and he couldn't be happier.