Mavericks Name Captains for 2012-13 – Tyler Elbrecht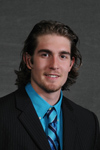 The Minnesota State men's hockey team has announced its team captains for the 2012-13 season.
Serving as captains are senior forward Eriah Hayes and senior defenseman Tyler Elbrecht.
Elbrecht, also a three-year letterwinner, has 2-17–19 in 101 games played over the course of his MSU career. The Edwardsville, Ill., native is a two-time WCHA Scholar-Athlete and a two-time WCHA All-Academic honoree.