Kraemer Piling Up Points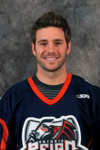 Kyle Kraemer has an 11-game point streak, which is the second-longest active streak in the ECHL.
Including a three-point game Sunday, Kraemer has 15 goals and 35 points in 38 games. He is third on the team in points despite missing the first six weeks of the season with a knee injury. But to the second-year winger, the stats don't matter.