Janssen sidelined 'indefinitely' with shoulder injury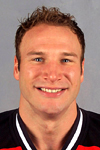 Albany Devils coach Rick Kowalsky confirmed today that right wing Cam Janssen, injured in Tuesday night's 4-0 victory over the Wilkes-Barre/Scranton Penguins, will be out of the lineup indefinitely.
That usually means at least a month. Janssen was not on the ice today. The team described it as an upper-body injury, although it was evident that he was favoring his shoulder as he left the ice in the first period Tuesday night.