Is Cam Janssen or Krys Barch the New Jersey Devils' Best Enforcer?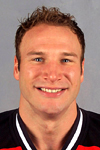 They may not add goals to the scoring column, but enforcers have always been considered an important aspect of any professional hockey club.
Last season, the New Jersey Devils were fortunate enough to have two. Cam Janssen and Eric Boulton carried the load for the organization with 190 penalty minutes while only adding one total point in a combined 99 games.