Goodwin catalyst for Musketeers' offense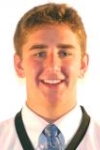 David Goodwin's hockey sense told him an opponent was in trouble and a teammate was ready to take advantage.
Late in the first period of Saturday night's 5-2 exhibition loss to Omaha at the United States Hockey League's Fall Classic, Goodwin intercepted a loose pass. Spotting his Sioux City Musketeers roommate Conor McGlynn near the goal, the 5-10, 180-pound third-year playmaking center flicked a crisp pass and the 6-2, 190-pound McGlynn buried it past stunned All-USHL goaltender Alex Lyon.