Former Gambler McCadden finds right fit with Green Knights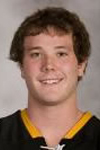 Patrick McCadden needed to find a new place to play and a place to heal.
It didn't take long for one of his former coaches to help him find one.
After McCadden saw his playing time as a sophomore diminish with a new coaching staff at Michigan Tech, Jon Cooper knew the former Green Bay Gamblers captain was looking to transfer.