Does Joe Vitale's Promotion Seal Eric Tangradi's Fate in Pittsburgh?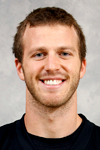 The offseason is often the best time to begin speculation about transactions and players shifting through the system, but the same can be said of that short amount of time between finalized rosters and the start of the season.
You know. Like, now.
Joe Vitale's performance in the preseason was enough to win over the hearts of Dan Bylsma and Ray Shero.