Devils signed Rod Pelley, Cam Janssen to minor league contracts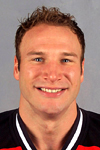 Janssen, 29, spent most of last season at Albany (AHL). In four NHL games for the Devils he had no points with two penalty minutes.
The popular Janssen, a native of St. Louis, has one goal and one assist in 147 career games with the Devils. He also has 282 PIM.