Devils reportedly sign Janssen; Leafs sign Kozun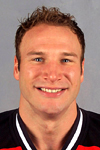 The New Jersey Devils have signed right wing Cam Janssen to a one-year, two-way contract, according to The Record. The report states Janssen will make $575,000 if he's in the NHL next season.
Janssen, 30, could have become an unrestricted free agent July 1.