Devils' Cam Janssen wants to beat St. Louis Blues; won't rule out fighting ex-roommate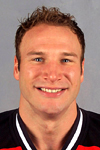 Devils winger Cam Janssen doesn't hide his feelings.
He wants to beat the St. Louis Blues when his former team visits the Prudential Center on Thursday night, and he would have no problem fighting friend and former road roommate B.J. Crombeen.