Charlie Effinger Signs With The Chicago Wolves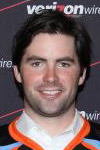 The Chicago Wolves have signed defensemen Dustin Friesen and David Pszenyczny and goaltender Charlie Effinger.
Effinger spent the 2010-11 campaign backstopping the Newcastle Vipers of the Elite Ice Hockey League. He posted a 14-39-2 record and a 4.76 goals-against average in 56 games with Newcastle.