Cam Janssen promises fights will come but Nottingham Panthers fans will see plenty more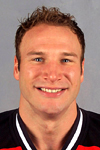 Cam Janssen has made his name as one of the toughest players on the planet. Nottingham Panthers fans want to see him fight. That is inescapable.
The problem for the former New Jersey Devil has been finding someone willing to step up and put their well-being on the line in his first four games with the club.