Brandon Bollig's Stickhandling Drill is the Best Thing You'll See All Day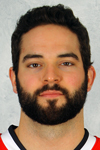 That being said, Kane's raw display of stickhandling was on display for the world to see earlier this month when he made a demo drill video for Bauer Hockey. Kane's incredible hands which scored 23 goals captivated the internet as people proclaimed the video looked staged.
Not to be outdone, teammate Brandon Bollig, the 'Hawks notorious fourth-line bruiser, had a go in what is being called "Operation Rain Drop".