Bluenotes: 'Mature' McRae returns for Blues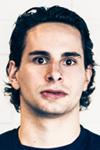 There were two valuable lessons that center Philip McRae picked up while playing hockey last season in Finland.
First, you don't see much of the sun during a Finnish winter. "When we would play in the cities in northern Finland, in December and January, it was dark the whole day.