Ben Bishop leaves injured in Lightning victory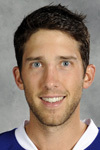 The play, when it happened, didn't look like much at all.
Ben Bishop dove to glove a floating puck early in the first period of Tuesday night's game with the Maple Leafs and fell to the ice.
But then he grabbed for his left arm, rolled on his side and did not get up.