"Ammer" is the Hammer for These Cedar Rapids RoughRiders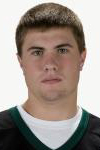 The readings on the radar gun seemed a little low at first, so it was decided the guy holding it would move closer than his normal perch behind the glass next to the goal judge's booth.
It's a tad unnerving, to say the least, to sit on the ice directly behind the net and have hockey players blast away at you. Thank goodness for strong nylon and no peculiar ricochets off the end glass.