A St. Louis Surprise For Grizzlies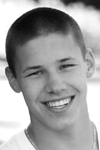 Missouri is the Show Me State and Anthony Bonner has definitely displayed to the Victoria Grizzlies' hierarchy that he's worth a longer look.
The St. Louis product, who played Junior C last season in the United States after taking a handful of years off from hockey to concentrate on football, has prolonged his stay as one of 40 remaining candidates with the B.C. Hockey League club.