Walleye Sign 2 Defensemen from Niagara University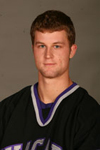 Niagara University defensemen Dan Weiss and CJ Chartrain have agreed to terms with the Toledo Walleye for the 2013-14 season.
Weiss, a native of Ballwin, Missouri, spent the last four seasons playing for the Niagara Purple Eagles. While at Niagara, the 6-foot-2, 185-pound defenseman appeared in 125 games, netting seven goals and 25 assists to go along with 62 penalty minutes.