Snakes add Derek Pallardy, rookie forward Jason Yuel to training camp roster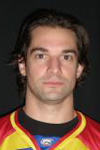 Seeking a hockey home last fall, Derek Pallardy was told that the Cottonmouths looked good and he wouldn't regret coming to Columbus.
A successful season and SPHL championship later, Pallardy is headed back to the Snake Pit.
The Cottonmouths added Pallardy and rookie forward Jason Yuel to their training camp roster on Tuesday. Other forwards on the list include Sam Bowles, Brett Hammond, Daniel Amesbury, Jim Durham and Levi Lind. Defensemen on board are Tom Maldonado, Bret Tyler, Andrew Krelove and rookie Chris Bailer.