Jincy Dunne Invited to 2016 USA Hockey Women's Winter Training Camp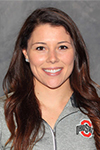 Ohio State defenseman Jincy Dunne has been invited to USA Hockey's Women's Winter Training Camp that will take place later this month.
A redshirt freshman from O'Fallon, Mo., Dunne leads the Buckeyes with seven assists and is second on the team with nine points. Both of those totals put her in the Top 5 nationally among all freshmen defensemen.