Chill To Host Open House On August 17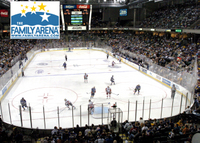 The Staff of the St. Charles Chill invite you to join us for our Season Ticket Holder Open House to select your season ticket location for the Inaugural Season of Chill Hockey!
OPEN HOUSE – AUGUST 17 – THE FAMILY ARENA
Public Open House/Public Seat Selection: 3-5pm. Those who would like to learn more about Chill season tickets and see the arena are welcome to stop by. Seat selection during the Open House will be handled in a "First Come, First Served" manner.
Coach Rivers and Chill players will be onsite throughout the day. Light refreshments will be provided.
Those who have placed deposits prior to August 17 will be invited to come to The Family Arena prior to 3pm and pick their seat location. The order in which seat locations will be selected is based on when the deposits were accepted by the Chill.
For more information about season ticket pricing CLICK HERE or to place your deposit call the Chill office at (636) 724-SHOT (7468).
View the entire Inaugural Season Schedule here.
Look forward to seeing you on the 17th!